Students in Kim Brewer's English 11 CP classes worked on budget info, as well as leases to prepare for their career research essay.
"My goal was that they would have some idea whether the careers they were choosing were going to be able to support them," said Brewer. "As part of the unit, I had Mrs. Morgan come over and we had the students create game boards based off the game of 'Life.'"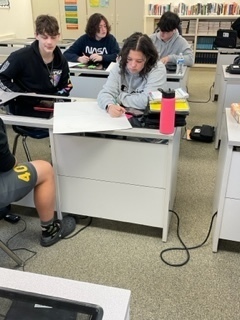 Students used their research to create career cards and housing cards. They also had to include a minimum of 10 life occurrences on the board (doctor bill, win the lottery, get a flat tire, etc.). The students then got to choose their game piece and Morgan, who is the school corporation's STEAM director, used the 3D printer to create them. The students were able to play their games in class and keep their game pieces.